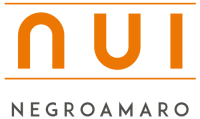 Nui, the beginning of everything, the initial grape of the cluster.
Everyone is completed through others, in the tangle of emotions and shared glances that we call life.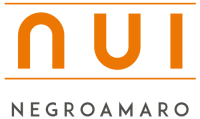 NUI is sharing. Bright and deep garnet in color, ample at the nose it evokes a thousand memories, from plum jam to cherries in alcohol. The taste is velvety and persistent, with a finish of liquorice.
Vintage 2014
Bottles produced 1,000
Grape varieties Negroamaro (80%) and Malvasia Nera (20%)
Training system Cordon trained (5,000 plants per hectare)
Vineyard average age 15 years
Vineyard area Salento, Apulia (Italy)
Soil type Loam
Harvest date Middle of September
Yield per hectare 90 q
Alcohol by volume 13.5%
Maturation 3 months in small oak barrels and 3 months in stainless steel tanks
Maturation in bottle Minimum 3 months
Aging potential 3-8 years
Bottle size 750 ml
Serving temperature 16-18°C
Tasting note
Appearance: deep ruby red, with purple rim.
Nose: dominant aromas of blackberry and plum, subtle notes of licorice and vanilla.
Palate: warm, velvet and harmonious
Harvesting system by hand with careful selection of grapes
Vinification The grapes, after drying naturally for a short time on the vine, are selected and harvested in crates. After crushing and de-stemming the must is fermented and macerated for 10 days at a controlled temperature (20-22° C).
Wine closure natural single piece cork
Serving Suggestions Pulses and meat dishes.